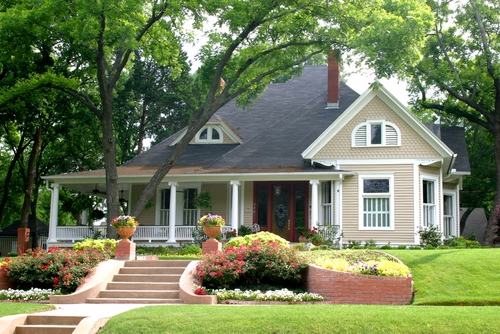 100% USDA Financing in Northern Virginia

Every now and then when I ask a client or even some other realtors if they have ever heard of 100% USDA financing I hear something like "Where's the beef?!" or "Doesn't the USDA deal with meat?!" Well yes, the United States Department of Agriculture (USDA) does regulate the beef industry among other things but they also have a Rural Housing Service that helps provide families in rural development areas proper housing. The loans are funded by approved lenders throughout the United States and guaranteed against default by the USDA.
Aside from a VA loan, 100% USDA Financing is the only other true No Money Down loan because it is not paired with down payment assistance and/or a second lien that requires another application process . The program is aimed at stimulating home ownership in less densely populated rural areas. Now this does not mean farms or ranches; it is intended for the purchase of single family residences, condos or town homes and it must be a primary residence. You will be surprised to see what areas qualify for this program. To confirm eligibility of a property all you need to do is go to this link and plug in a full address:
USDA Property Eligibility Link

The site will show you on an interactive map whether the property is an eligible area or not and you can zoom in and out to see where the boundary lines are.
This is a Moderate Income loan program so there are income limits the household must be under but trust me, the limits are fairly liberal. The maximum allowable income is determined by county and number of adults and children in the household. The more people in your household the higher the income limit. Do not assume that you will or will not qualify. A qualified mortgage professional that has experience with the program can you help you determine that.
Highlights of the Program
Finance full purchase price plus closing costs up to 102% of the appraised value with or without seller concessions
No cap on seller concessions, if seller is not paying closing costs, they can be rolled into the loan amount up to 102% of appraised value, not sales price. Great on foreclosures.
One lien, no down payment assistance required
No post-closing reserve requirements
Not limited to first time home buyers
Finance needed property improvements into loan amount up to 102% of "After Repaired Value" (case by case, contact me for details)
Full doc only, must have stable work history (2+ years)
Self-Employed borrowers okay with 24 month average taxable income
No open collections, charge offs, judgments or tax liens
Available for SFR's, condos & townhomes only, No mobile homes or multi-family properties
Keep in mind this program is offered and funded by approved lenders and guaranteed against default by the USDA similar to the way VA loans are. Since this is one lien, there are no other applications to submit as you would on a down payment assistance program that requires a separate approval and many more weeks for a final approval. The only extra step is once all of the lender conditions have been met the file has to go to a local USDA office for a final review. This can take as little as 3 days but in some states it can take 30 days. The key is for the loan officer to be preeampitve and confirm all of this information beforehand so to set expectations for everyone.
If you are looking into qualifying for a USDA loan make sure you are working with a mortgage professional that has actual experience closing USDA loans since not all lenders have experience structuring this type of loan. The program has been around since 1994 but has become popular over the last few years since the majority of 100% programs have gone way of the dinosaur.
For more details or questions regarding the USDA program feel free to contact me at your convenience
.
Search Homes Here